Planning your Christmas Décor?
Check out below for inspiration on where to start this festive season.
Modern Décor to switch it up for 2021
Natural Foliage
This year it's all about the natural foliage, with eucalyptus being a front runner for all styles. It's easy and accessible you either choose to buy a pre made item from a florist or consider going on a family outing and see what you can find yourself; natural foliage is a beautiful way to create a backdrop or even a wreath to spice up your home this Christmas.
Light it up
Now fairy lights have been around for a very long time, and they've always been an essential on the Christmas décor list, but this year they're being used in a different way. Adding a set of small fairy light to a wreath or inside a bauble is a wonderful way to elevate the traditional decoration and give them a modern touch. Also, the majority of these are made with battery operated fairy lights, so not only is it a stunning décor it also saves on electricity.
Colour scheme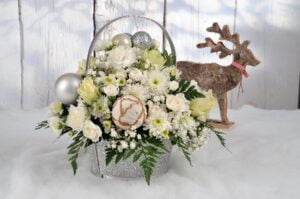 I'm not sure about anyone else but the moment I think of Christmas décor two colours come to mind Green and Red; but this year its predicted that white's and silvers are to be the big thing of Christmas 2021. So rather than sticking to the colours that your used to, switch it up by adding some metallic colours to your décor and for that little bit extra include some fake snow to take it up a notch. Think frosty cold mornings.
The Classics we can't resist
Traditional Christmas Wreaths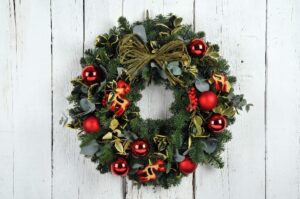 One of our faves here at Homeland Florists is the Christmas Wreath, it makes the perfect centrepiece for your front door to show your neighbours that you're embracing the Christmas spirit. But, that doesn't mean you're limited to the front door, there are tons of places all around the home that a festive wreath is the perfect decision, experiment with it because this absolute classic will work anywhere. Why not add a hurricane vase and candle to the centre of the wreath and use it on the table on Christmas day or hang your wreath in the centre of your mantlepiece to bring some real flair into the room.
Everyone loves a Christmas tree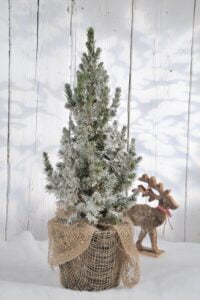 That is a statement we can't deny, because who doesn't love a Christmas tree? That's how we know the festive season has arrived and a tree is an essential piece, however, over the years the Traditional tree has change. No longer is it just a traditional Spruce the last few years the Nordmann Fir has gained popularity due to its needle retaining feature. Why not opt for a Fraser Fir tree if you like to have a real tree but are a little short on space this tree is narrower but will still fill your home with that lovely Christmas tree scent.
And for those who love the artificial ones experiment with colour, try a nice white or perhaps a pastel pink. Also, asymmetrical and sparse tree is a growing trend this year so maybe don't go for the fullest tree you can find, and try out a different way to decorate, try a minimalist Scandinavian look with only a few simple decorations.