Christmas is a time when many people celebrate by decorating their homes with festive holiday decorations, flowers and christmas wreaths. One popular ​decoration is the Christmas tree.
Christmas trees come in many ​shapes and sizes, and today there are even more ​eco-friendly options.
In this post will explore some of the different types of Christmas trees.
💡There are mainly ​two types of Christmas trees: natural and artificial.
Natural Christmas Trees
Natural Christmas trees bring a classic, ​festive look to any home during the holiday season. So, whether you're looking for an ​eco-friendly Christmas tree or something to fit in a small space. Or if you want a statement piece ​for your living room, there are plenty of options for natural Christmas trees.
Let's take a closer look at four ​popular types of natural Christmas trees and what makes them unique: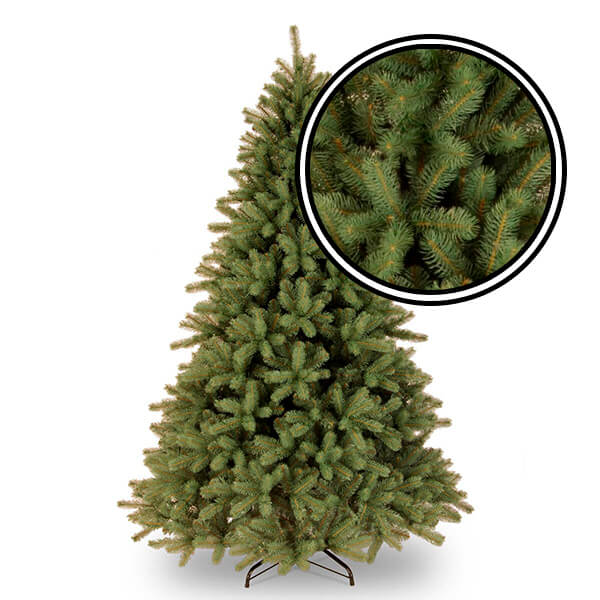 One of the most popular types of ​Christmas trees is spruce. Spruce trees are known for their stiff, triangular ​needles and cone-shaped bodies.
They are also very sturdy, ​which makes them ideal for holding heavy decorations.
Another advantage of ​spruce trees is that they have a long lifespan. With ​proper care, a spruce tree can last for many years.
Some spruce trees have been ​known to live for centuries.
But, ​spruce trees have one downside: they can be ​challenging to care for.
When choosing a spruce tree, select a ​healthy specimen with strong roots. Once you bring your tree home, keep it well-watered and​ away from heat sources.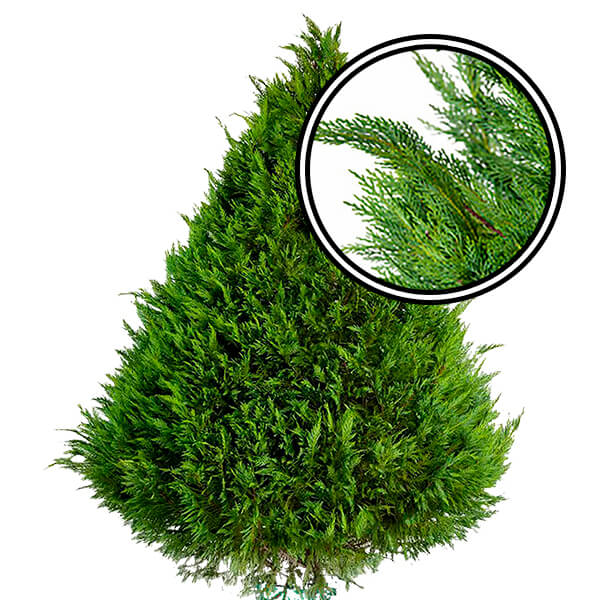 If you're looking for a real Christmas tree that will make a statement, look no further than the cypress Christmas tree.
Also known as the Italian stone pine, this ​stately evergreen can grow up to 100 feet tall and 30 feet wide. Making it one of the ​largest Christmas trees you can get.
The cypress Christmas tree is native to the ​Mediterranean region. And prized for its distinctive blue-green ​needles and conical shape.
If you have the ​space for a large tree, the cypress Christmas tree is a beautiful choice that will add ​holiday cheer to your home for years to come.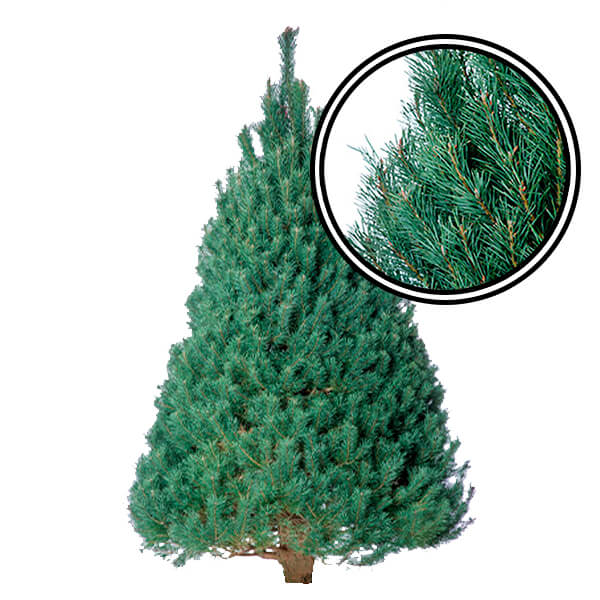 Pine trees have long, ​thin needles, which give them a ​soft and full appearance.
They grow fast compared to ​other evergreens, making them an affordable option if you want to try out a ​real tree this year.
Additionally, ​pine needles stay on the tree longer ​than other evergreens.
This makes them an ​ideal choice if you don't want to worry about cleaning up fallen needles daily!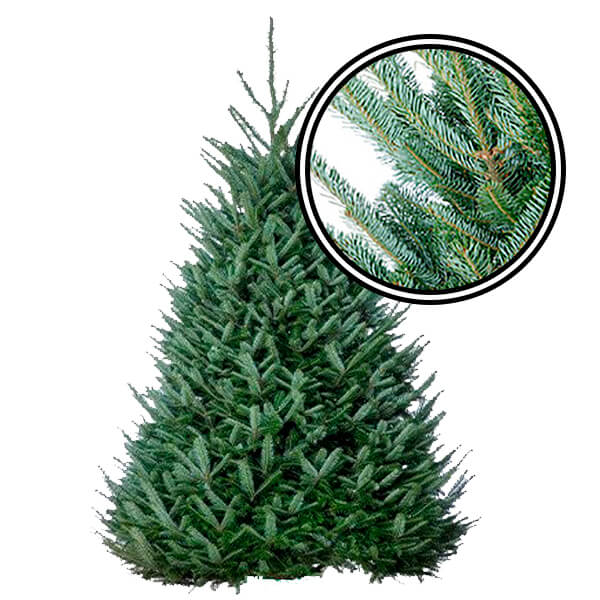 Fir trees are widely considered to be the quintessential Christmas tree.
Their symmetrical shape and ​rich green colour have been a holiday staple for centuries.
Fir trees are also easy to care for, and their ​strong branches are well-suited for holding heavy ornamentation.
Besides, fir trees have a ​pleasant scent (some say like pink roses) that helps to create a warm and inviting ambience in any home.
While many fir trees are available, the ​most popular is the Fraser fir.
Named after the Scottish ​botanist John Fraser, this Tree is known for its ​excellent needle retention and aromatic smell.
With its regal appearance and ​traditional appeal, it's no wonder that the Fraser fir is one of the most ​popular Christmas trees around.
Artificial Christmas Trees
If you're looking for a way to make your ​holiday season memorable without the hassle of a real tree, then an artificial ​Christmas tree may be what you need.
💡Let's take a look at some of the ​different types of artificial Christmas trees available.
Artificial Christmas trees come in all shapes and sizes, with various ​features and benefits. Plus you can surround them with ​real flowers like carnations or sweet Avalanche Roses to really set the mood.
They can be a great choice if you ​need a sustainable Christmas tree, and these trees are a perfect choice: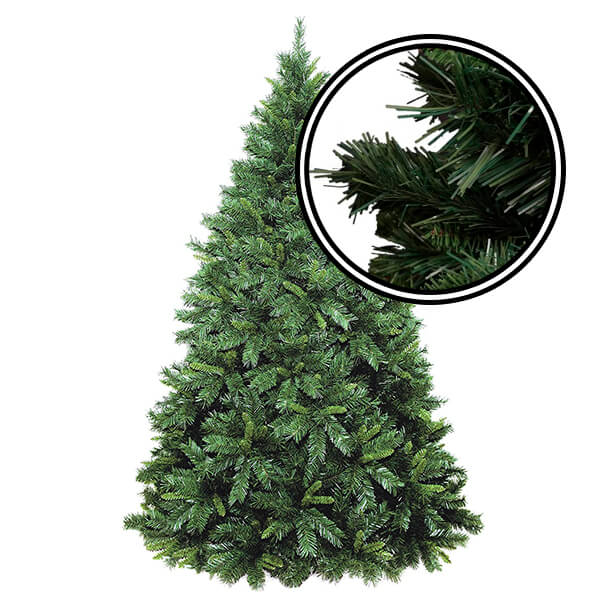 PVC trees are constructed from ​polyvinyl chloride material, usually treated with fire retardant chemicals for safety reasons.
This type of plastic tree has a ​glossy finish and can often have perfect and symmetrical needles.
Making them look somewhat ​artificial compared to real Christmas trees.
They tend to be more ​durable than other artificial trees.
But they can also be ​quite expensive and harder to store since they don't collapse like different types of artificial trees.
Fibre optic trees use bundles of tiny glass fibres that act as light guides. This allows them to produce a dazzling display of colours and patterns using LED lights or halogen lamps.
The best thing about fibre ​optic trees is that they need very little maintenance since the lights are already ​built into the branches.
All you have to do is plug them in!
But, these trees are ​pricier than other types, so they might not be the ​best option if you're on a budget.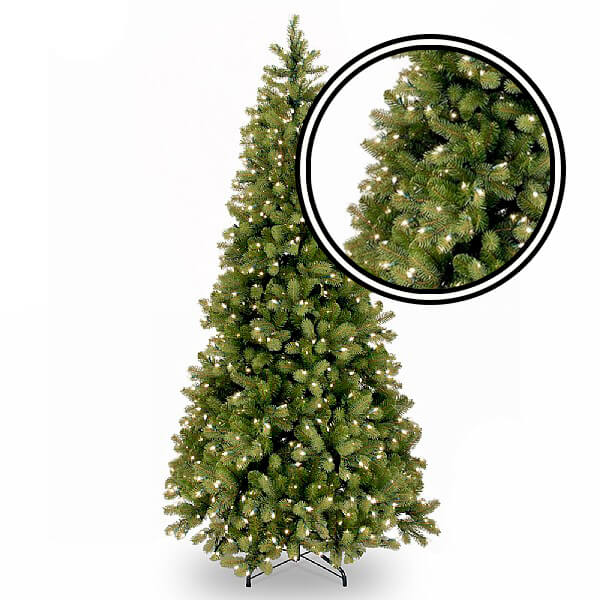 A pre-lit ​artificial tree is exactly what its name implies.
It comes with ​pre-installed LED or incandescent lights strung along its branches for easy setup and quick lighting effects ​throughout your holiday decorating.
Pre-lit trees can be made from either ​PVC or plastic materials.
But they tend to ​cost more than other types due to the added ​convenience factor.
Plus, depending on how many ​bulbs your tree comes equipped with, you may have to replace bulbs every ​few years due to wear and tear.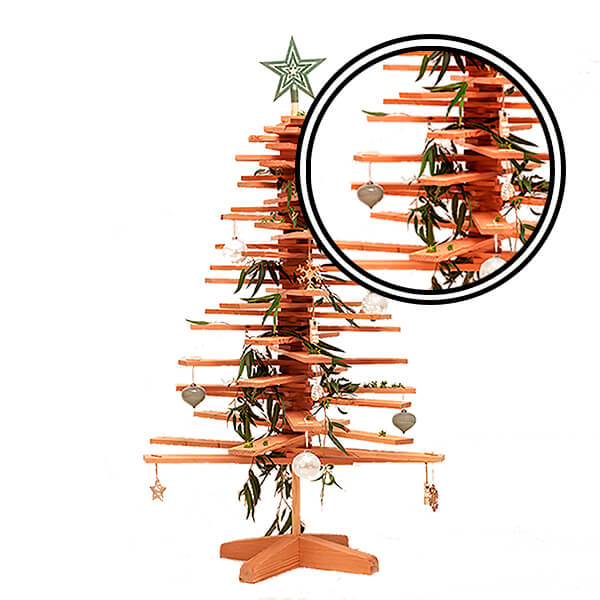 Wooden trees are a great eco-friendly and ​sustainable option for those who want to reduce their carbon ​footprint during Christmas.
Wooden trees are usually made from ​sustainably sourced wood and come in various sizes and shapes.
Making them perfect for ​creating your unique holiday style.
Additionally, wooden trees are ​straightforward to store since they can be ​collapsed when not used.
Many even come with reusable ​storage bags to make this process easier.
So, it's perfect if you are looking for a ​reusable Christmas tree.
How to ​Decorate Your Christmas Tree Like a Pro?
Here are our top tips on decorating your Christmas tree like a pro!
One of the best ways to achieve a ​cohesive look for your Christmas tree is to pick a theme.
Whether you want to go ​classic with red and green decorations or try ​something new, like an all-white tree.
Choosing a colour scheme will ​help you narrow down your options and make shopping for ​ornaments, complimentary flowers and other decorations a breeze.
Once you've picked your ​perfect Christmas tree, it's time to string up the lights! Depending on the size and shape of your tree, you may ​need anywhere from 100 to 1000 lights.
We recommend starting at the trunk and ​working your way up, wrapping the lights ​around each branch until you reach the top.
And if you want your ​tree to shine, try using different ​colours of light bulbs for a festive touch.
Now it's time to add in the garland. ​Garland comes in all different colours and textures, so choose something that ​compliments your tree's theme.
For example, opt for ​burlap garland instead of shiny tinsel if you're going for a rustic look. Once you've selected the ​perfect garland, drape it around your tree from top to bottom. Ensuring an even distribution of ​garland throughout.
4. Finish with the Ornaments
The final step in decorating your ​Christmas tree is adding in the ornaments!
If you have kids, this is always a ​fun activity to do together. Let them pick out their favourite decorations (within reason) and ​place them on the tree however they want. If you're going for a more refined look, hang ​similar-looking ornaments together in small clusters.
Whatever route you decide to go, ​have fun with it! After all, there's no wrong way to ​decorate a Christmas tree.
When to take down your ​Christmas tree?
Many believe that the ​Christmas season is not over until the Twelfth Night, January 5th. But, others take down their ​trees much earlier, often after New Year's Day.
There are a few factors to consider ​when deciding when to take down your Christmas tree. If you have young children, take the ​tree down sooner rather than later, as it can be a safety hazard.
If you get busy after the ​holidays and don't have time to clean up, consider taking the tree down early.
And, of course, if you live in an area with ​high winds or heavy snowfall, it's essential to take down the tree before it becomes a liability. Ultimately, there is ​no right or wrong answer on taking down your Christmas tree. It's ​simply a matter of personal preference.
How to Dispose of Your Christmas Tree?
When your Christmas tree has ​served its purpose, it's essential to dispose of it responsibly.
Depending on where you live, ​there may be different options for disposing of a Christmas tree. Here are some tips on how to dispose of your ​Christmas tree in an eco-friendly way:
Check with your town or ​city to see if they offer a Christmas tree recycling program. Many towns and cities have programs in place that allow residents ​to recycle their trees. This is often as simple as taking your tree to a designated drop-off location. Or contact your local waste management company to schedule a pick-up.
If there is no recycling program, see if ​your town or city offers composting services. Many times, Christmas trees can be composted along with other organic waste.
Use your Christmas tree as firewood! This is a ​great way to get some extra use out of your tree and keep your home warm at the same time. Chop the ​tree into small pieces to fit in your fireplace or wood stove.
Donate your tree! Many ​organisations accept donated Christmas trees. These trees are often used for things like natural habitat erosion ​control or as food for animals in zoos and wildlife sanctuaries.
If you have an artificial tree, ​reuse it next year or donate it to someone who can use it. Artificial trees can last for years and years with ​proper care, so there's no need to throw them away each year.
As a last resort, you can always put your ​tree out with the rest of your trash on garbage day. Just cut the tree into smaller pieces to fit ​easily in your trashcan.
We hope these tips have been helpful! Remember, ​when disposing of your Christmas tree. Always consider ways to be eco-friendly and ​reduce your environmental impact.
Conclusion
No matter what type of Christmas tree you ​choose, it's essential to consider all available options.
From traditional fir trees to eco-friendly wooden trees ​and everything in between, there is a perfect tree for everyone. Whether you're ​looking for something classic or modern, natural or artificial, with lights or without.
Choosing the right Christmas tree can help ​make your ​holiday season as merry and bright as possible!
Happy decorating!
Christmas Trees FAQs
Here are some of the most frequently asked ​about different types of Christmas trees.
What are Eco-friendly ​Christmas Trees?
Eco Christmas trees are a great way to reduce your carbon ​footprint during the festive season. Eco-Friendly options include wooden trees, potted ​Christmas trees, and reusable artificial trees, which can be used year after year.
What are some sustainable Christmas tree options?
There are many sustainable options for ​Christmas Trees, depending on what works best for you. For example. Eco-friendly artificial trees are an ​excellent option. They last for many seasons without needing to be replaced and need minimal ​maintenance. Another popular option is wooden trees. Which provide a natural look while still ​being environmentally friendly.
What are the benefits of a Fake Christmas Tree?
Fake trees offer many benefits as they can lasts for many ​seasons requires minimal maintenance and can be stored easily. Plus, fake Christmas trees ​come in various shapes and sizes to ensure that you get the exact look you want ​while still being Eco-friendly.
How do I choose a Reusable Artificial Christmas Tree?
When choosing a reusable ​artificial tree, it's essential to consider the size, shape, and type of material used. Additionally. Check out reviews from ​other customers to ensure that your Tree will last through many seasons with minimal wear and tear.
How many kinds of Christmas trees are there?
There are many Christmas trees, but the most popular are the ​Douglas Fir, Fraser Fir, Balsam Fir, and Noble Fir. Each type has unique characteristics ​that make it a popular choice for many people.
Which Christmas tree is most environmentally friendly?
The most environmentally friendly ​Christmas tree is the one that is best for your local climate and ecology. For example, in a dry climate, an artificial ​tree might be better than a real tree because a real tree will consume more water and ​produce more waste. In a moist environment, a real tree would be less likely to dry out and release less ​carbon dioxide into the atmosphere.
Remember to recycle or compost your ​Christmas tree when you're done with it!
Is a potted Christmas tree better?
A potted Christmas tree is better because it can be ​replanted after the holidays. Also, a cut Christmas tree will eventually ​decompose, so a potted tree is more eco-friendly.
Potted trees are also easier to ​transport and can be stored in a garage or shed until you're ready to use them again next year. If you have a ​large enough pot, you can even keep your Tree in the pot and replant it outside each year.
How long can you leave a Christmas tree up?
You can leave a Christmas tree up for as long as you want, ​but fresh trees will start to lose their needles and become dried out after about two weeks. If you ​want to keep your tree up for longer than that, you can buy an artificial tree. Or use a fake ​tree stand that recycles the water in the tree's base to keep it fresh.
What are the five most popular Christmas trees?
Here are the five most popular Christmas trees:
Fraser Fir
Balsam Fir
Douglas Fir
Scotch Pine
White Pine
Is it bad luck to take down ​Christmas decorations early?
It's not bad luck to take down ​Christmas decorations early. In some cases, it is ​advisable to do so to avoid potential accidents.
Christmas decorations can be a major fire ​hazard if not taken down properly. Also, removing them early can help avoid any damage that ​pets or children might cause. Finally. Taking down Christmas decorations early can help clear up ​space for other holiday activities.