We've got everything you need if you're searching​ for patio ideas that will work in all sorts of outdoor settings.
Whether you have a large outside space to​ play with or live in an apartment with a tiny balcony, there are several options for adding style and​ substance to your patio area.
Whether you're enjoying a sunny day​ surrounded by beautiful mixed bouquets of flowers or hosting a party, a well-designed patio can be the perfect spot to relax and enjoy the outdoors.
If you're looking for some inspiration, take​ a look at these twenty amazing modern patio designs.
From sleek and minimalist spaces to cosy​ and casual areas, there's sure to be something here that will inspire you. So get outside and​ start planning your perfect patio!
1: Create Ambiance with Lighting and Accessories: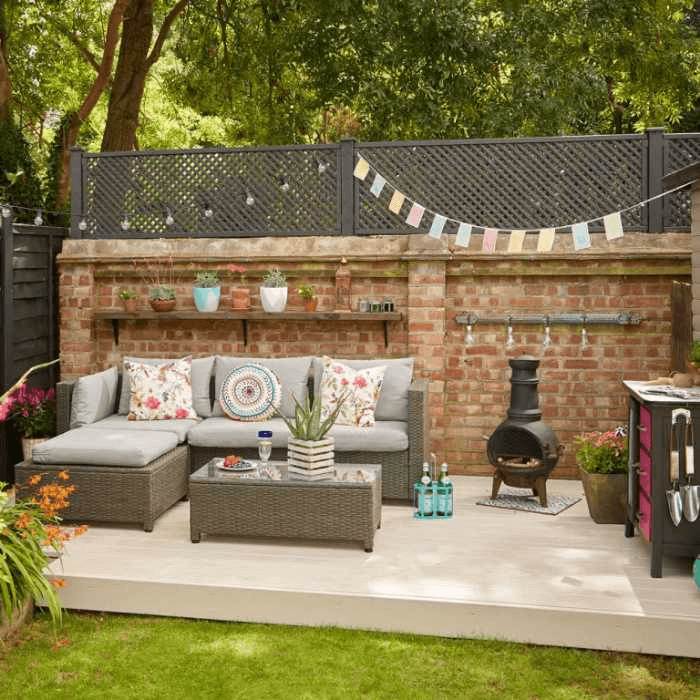 One way to add instant ambience​ to your patio is with lighting. And don't forget about accessories! From rugs and pillows, mixed flower bouquets to planters​ and candles, the right accessories can make your patio feel like home.
You may wish to enhance the ambience​ of your garden after dark. After sunset, consider lighting up your patio with lanterns and​ cushions on the ground.
Lanterns are simple and quick to brighten​ gardens without hiring an electrician.
2: Brighten up Your Home​ with Cluster Container Plants: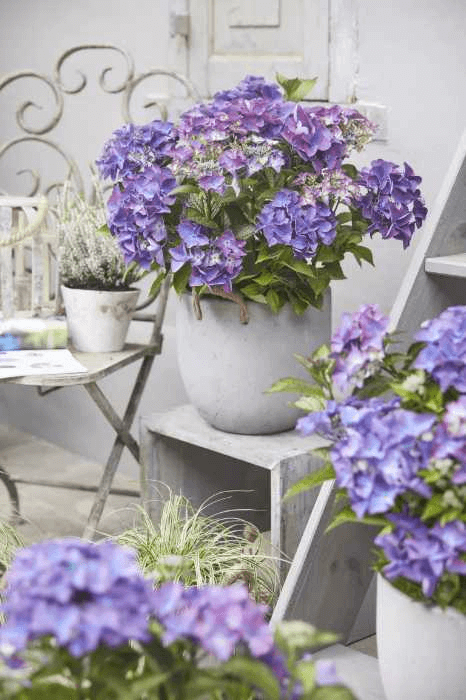 Container plants are a great way to add colour​ and life to your patio and are also easy to care for. Cluster plants together for the greatest impact, and choose​ plants and value mixed bouquets that will thrive in your climate.
Be sure to water them regularly​ and fertilize them as needed.
Container gardening is an excellent​ way to add colour to your patio, and you can do so by grouping similar colours​ and plants together.
Not only will this create​ a more visually appealing space, but it will also give the illusion of a larger area​ if done correctly.
To make things easier on yourself​, choose low-maintenance​ plants such as hydrangeas or geraniums.
If you're feeling adventurous, try adding palms, citrus trees​, or olive trees to transport yourself (and your guests) straight to the Mediterranean!
3: Add a Garden Canopy: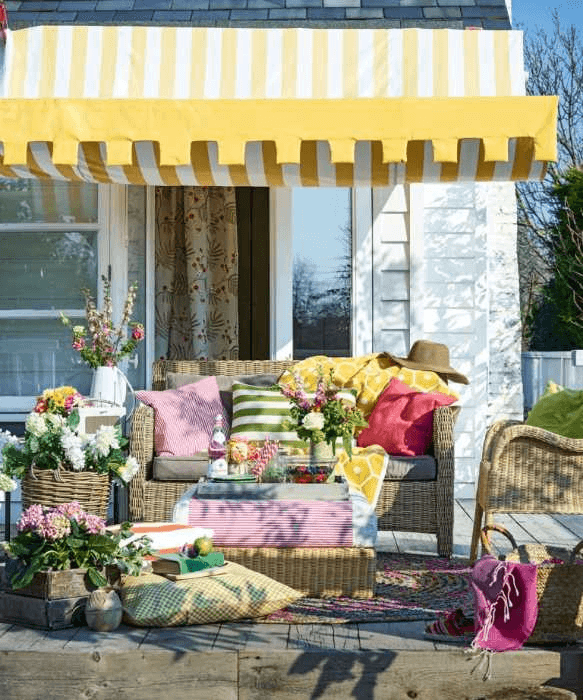 Patio ideas are a must-have for alfresco dining, but rain​ – or, more frequently, sun – might be an issue when hosting outside people.
So, garden shade ideas are essential.
A simple handmade canopy constructed of a​ strip of flowing fabric may provide a beautiful cover and add a nautical vibe to an outdoor space.
Another luxury option for a peaceful​ patio is a hammock. It works in both limited and spacious areas and makes a beautiful spot to​ relax in the sun on hot days.
4: Select Paving Which Complements the Home:
There is a range of patio paving​ materials available on the market, from concrete to stone. When choosing the right paving for your patio, it's​ important to consider the style of your home.
If you have a modern home, you'll want to​ choose sleek and contemporary paving that will complement your home's design.
If you have a more traditional home, you might​ want to choose paving that has a more classic look.
When it comes to choosing to floor for​ your patio, you'll want something that's waterproof and has a low slip level. For the best results with this type​ of surface material select an R11-rated product.
One that offers increased friction so as not to allow​ any accidents during use or maintenance!
5: Create a Perfect Patio with Shabby-chic Furniture:
Shabby-chic furniture is​ a great way to add a touch of romance to your patio. Look for furniture with distressed finishes and romantic details.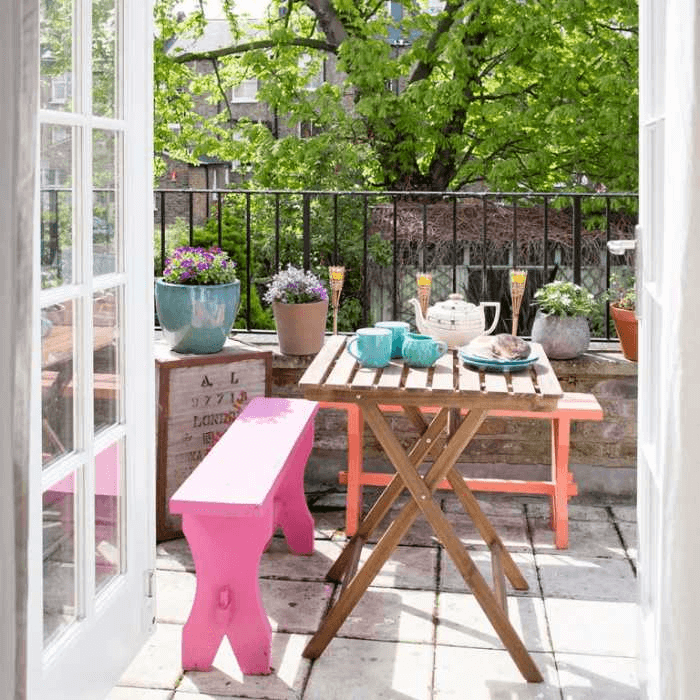 A paved balcony may be used as a patio idea​ substitute in a flat. Please make the most of the extra space. Furnish it with small, bright furniture that​ won't overpower the area and include some beutiful red roses to compliment the area.
Foldable components are fantastic since they can be​ folded down to create more indoor living room when not in use/to fit the scenario.
Planting plants on the ledge below the balcony is a​ good idea. It will add an essential natural element to your tiny garden.
6: Design a Patio Dining Area Outside:
This way, you can take advantage of the​ beautiful weather and enjoy some delicious meals simultaneously. When designing your​ patio dining area, remember a few things.
First, you'll want to ensure enough space​ for a table and chairs. You'll also want to consider the area's layout and how you want​ the furniture to be arranged.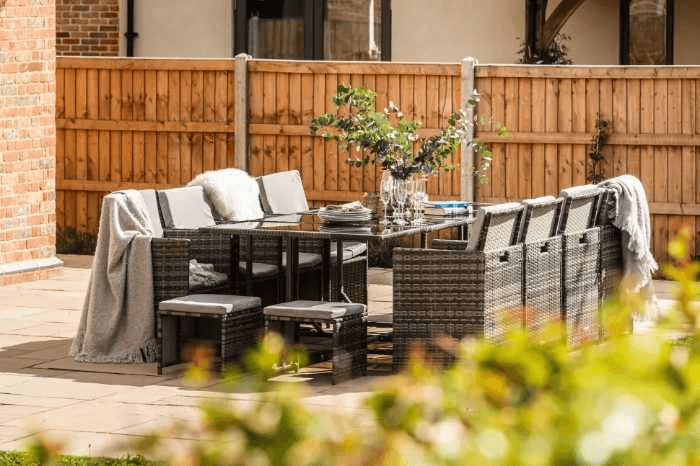 You can use paving slabs to make an​ extra dining area in your backyard. Plenty of options are available for ease of upkeep,​ colour, and format.
Perfect for a one-of-a-kind space​ filled with beautiful garden paving ideas.
When designing the dining area, think​ about how many people you will usually have over for BBQs and what shape​ the table is/will be.
You'll want to create comfortable​ outdoor spaces that fit six people, as this Good Home Denia set from B&Q (open in a new tab). Make sure there's a walkway​ behind each chair at least 1.5 – 2m wide, so everyone has enough room to move around freely.
7: Transform Your​ Patio into a Sleek, Modern Oasis:
With its clean lines and simple design, modern patio​ furniture is the perfect way to transform your outdoor space into a sleek, modern oasis.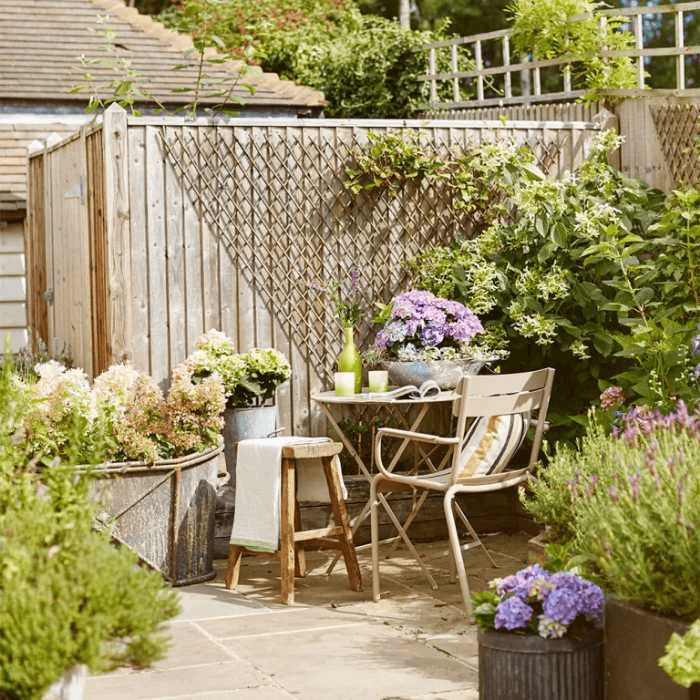 Create a relaxing space for yourself in a rural​ country garden by planting carnation flowers and other greenery around a courtyard.
Crawling vines, bedding, and potted plants in​ steel containers will make the area look lusher. To complete these patio ideas, add a bench or bistro ​set so you can enjoy the scenery.
8: Transform the Patio into a Lovely Potting Area:
If you're looking for a way to add a bit of charm to​ your patio, consider turning it into a lovely potting area. Add some shelves or cabinets for storing all your supplies.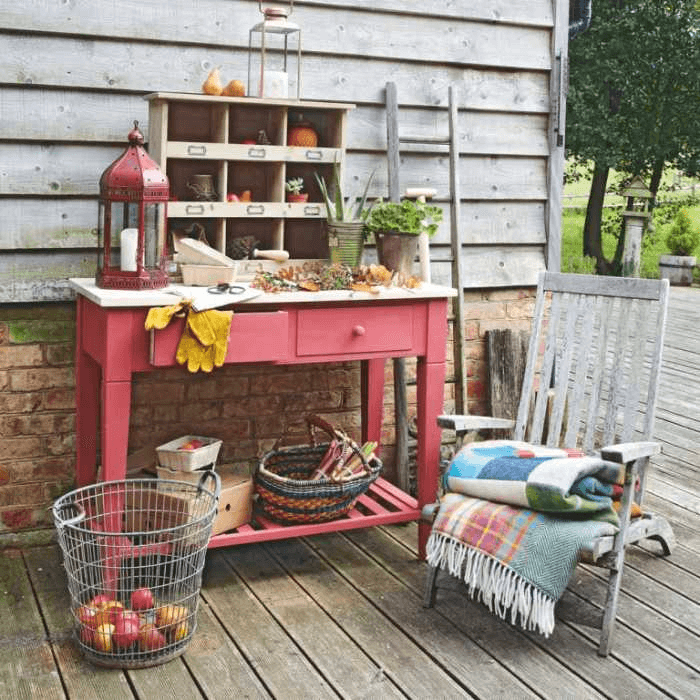 A patio doesn't have to be used only for summer dining.
Create a practical plant potting area outside your​ back door with a vintage workbench for storing gardening tools and housing the season's most beautiful​ plants and flowers.
A neat stool doubles up as a lovely place to relax​ and enjoy the view when not in use for climbing tall trees.
9: Make Your Patio More​ Unique by Adding a Living Wall Border:
A living wall is a great way​ to add colour and life to your patio.
Living walls can be created with various plants​, so you can choose something that will thrive in your climate.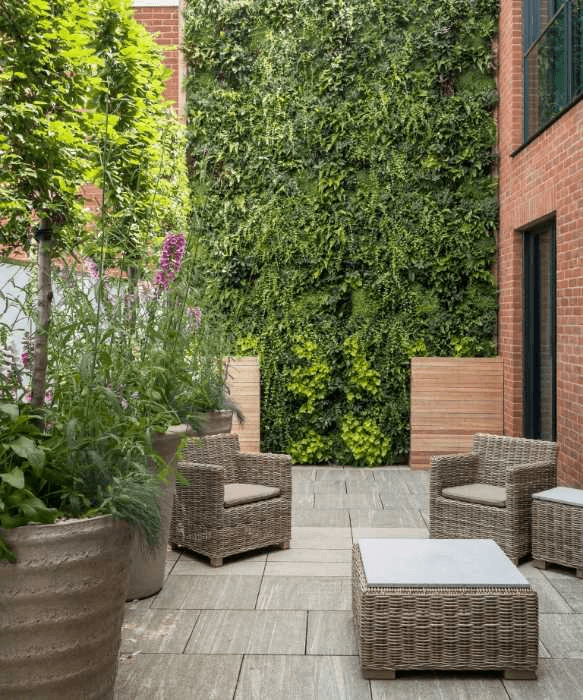 Living walls are a fantastic option for​ anyone looking to take up little space but still have impressive outdoor living space.
Vertical garden design not only creates​ the perfect frame around your patio. But they also improve air quality, reduce noise by absorbing sound waves from​ emission sources like cars passing through or lawn mowers cutting grass.
You can even attract wildlife into your home with​ these sustainable solutions!
10: Transform Your​ Space with On-trend Colours:
Consider using on-trend colours if you want​ to make a statement with your patio design.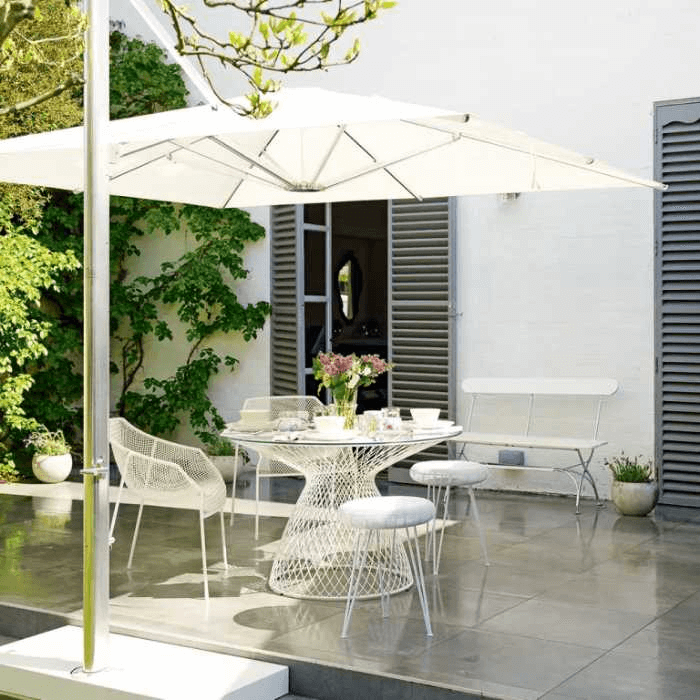 Although it may be considered dull, Grey is​ a versatile colour that can be used in many different spaces.
Choose from polished concrete or grey porcelain​ tiles for your patio design ideas. Then coordinate them with shutters and doors​ to create the perfect look!
Finish things off with a modern sizeable white parasol to provide shade, sweet avalanche roses and create a visual​ boundary for your dining space on sunny days.
11: Select Cocoon Chairs:
Cocoon chairs are a great way to add some style to your patio. They come in various colours and styles, so you're sure to find one that fits your space.
Cocoon chairs are the perfect way to do it​ whether you want to relax in the sun or enjoy a good book.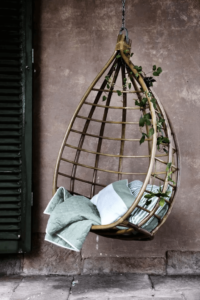 A cocoon-style egg chair is exceptionally​ comfortable in winter, and it's easy to see why they're so popular.
If you're prepared to pay a higher price, add some​ armchair-style seating that's pleasant, weather-resistant, and long-lasting.
But, check the labels carefully because not all​ designs are designed to endure winter outside exposure.
Synthetic resin is ideal for outdoor use since​ it may be left outside without worrying about deteriorating.
12: Make Bright Your Patio Space with Colourful Seating: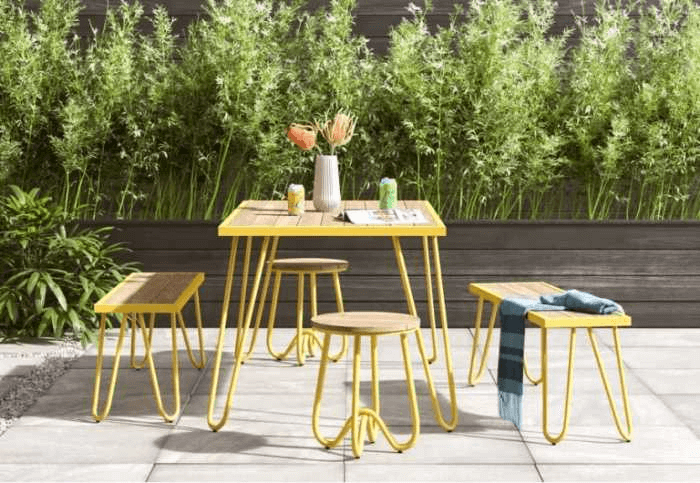 To add some brightness to your patio, consider​ using colourful seating. Only one thing can make this day better: an outdoor​ dining table!
Outdoor furniture stores are popping up​ left, right, and centre, but if you want something more unique than what they offer, try​ searching on Wayfair.
This industrial set will give your patio​ an instant update while also adding some much-needed sunshine. Perfect for those warm summer months ahead when it gets dark​ early, thanks to these delightful evenings spent under the stars.
13: Add an Outdoor Fire Pit:
If you're looking for a way to make your patio more​ inviting, consider adding an outdoor fire pit.
If you're looking for an elegant way to warm​ up your outdoor space on cooler days or evenings, consider adding a fire pit.
One of many designs available is from rustic​ stone materials such as aggregate flagstones.
They provide earthy tones with the warmth of natural​ gas flames flickering inside them while seating around its sleek contemporary in-built tabletop​ units, perfect if there's not enough outdoor room at larger gatherings!
14: Make Your Space Feel​ Cheery with Bright Accessories: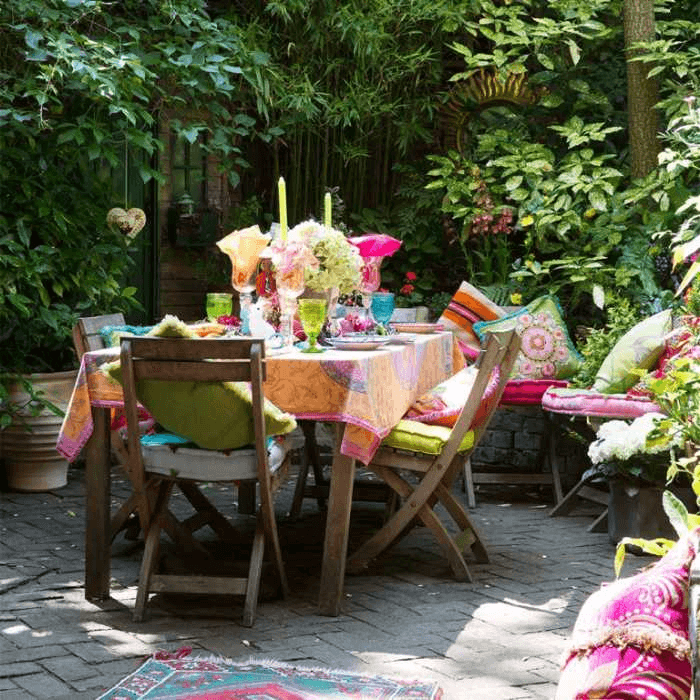 If you want to add a touch of whimsy to your patio​, consider adding some brightly-coloured accessories. For sheltered patios, create more visual impact by​ turning blank walls into an art gallery.
A herringbone brick patio must not be confined​ to the English countryside style. Bring a more exotic ambience to your room with more Moroccan​ decor featuring richly patterned and bright furnishings topped of with beautiful mixed bouquet of flowers.
15: Choose an Indoor and Outdoor Link:
Choosing an indoor and outdoor link is​ essential to achieve a seamless transition from indoor to outdoor. One way to do this is to use the same​ furniture style for both areas.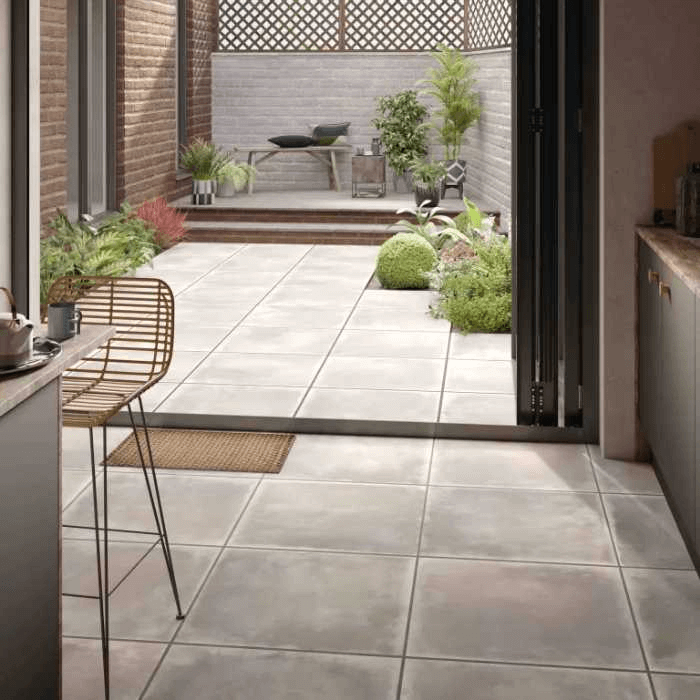 Incorporate your patio design with the​ rest of your house by choosing floor tiles that match those inside.
This creates a cohesive indoor-outdoor link, which​ is especially effective if you have a kitchen extension or other renovation that opens​ the house onto the garden.
Matching paving on either side of any doorways​ further extends your space. This results in a smooth transition between indoors and outdoors.
16: Choose the Perfect Colour Duo: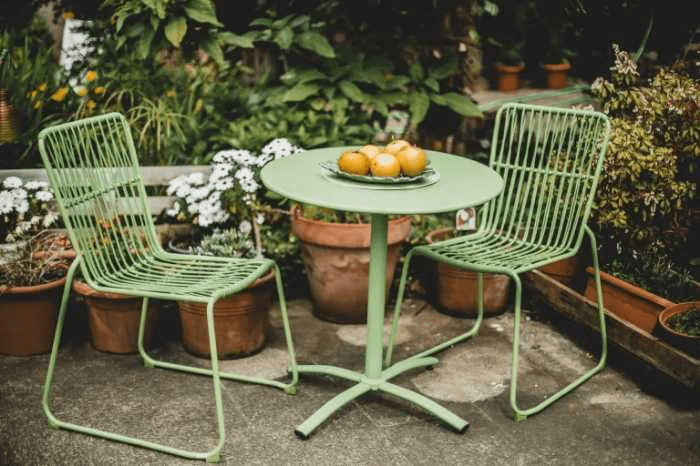 When choosing the perfect colour palette for your​ patio, there are endless possibilities.
Nothing beats pastel hues to put you in a​ summer mood. Choose only two primary colours for your area to make it simple​ yet effective.
The sage green bistro is made​ attractive by the sweet addition of orange chairs and works wonderfully.
Consider adding a crimson or orange​ lantern as a centrepiece or even a sweet avalanche bouquet as a centre peice, and that​ will be enough for an excellent patio appearance.
17: Add an Outdoor Patio Cook Space:
If you're looking for a way to take your​ patio design to the next level, consider adding an outdoor cooking space. You can extend your outdoor living space​ with an outdoor kitchen and enjoy the outdoors even more. An outdoor kitchen is a great​ way to make your parties even more enjoyable if you love to entertain.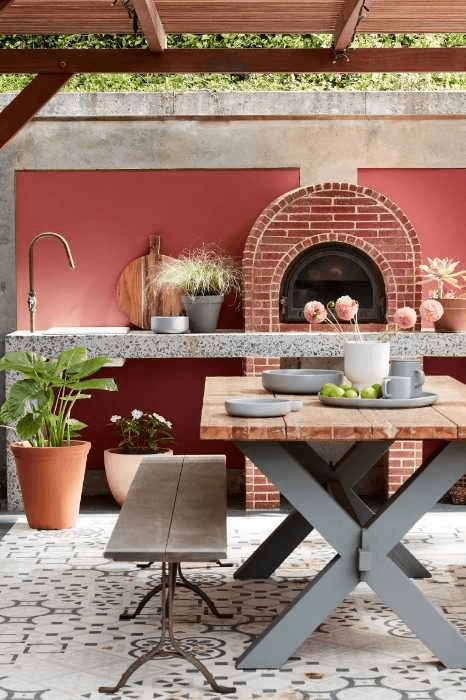 Adding an outdoor kitchen to your patio might​ extend its usefulness. Turning it into a place for dining and lounging, and​ living in the summer.
When considering how to build an​ outdoor kitchen, think of it as if you were building one inside.
Create a separate cooking area with​ preparation space and a closely associated dining area, as you would indoors. Include access to fast-running water in​ your design; make sure a tap and sink are included.
18: Invest in​ High-quality Patio Furniture:
If you want your patio to last for years, investing in​ high-quality furniture is essential.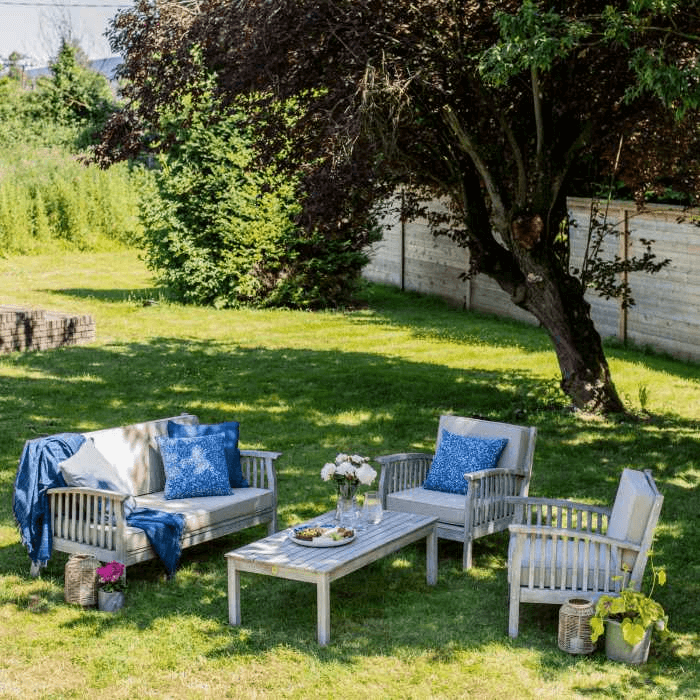 Whether you have an oversized patio or a​ tiny one, an intentional exterior can help transform your outside space from​ drab to lovely.
"Whether you're shopping for patio​ furniture or anything else, the best approach is to figure out how you want to use the space and then pick pieces​ that are both useful and attractive."
advises Rikke Braeside.
Choosing multi-functional furnishings in addition​ to traditional purchases like a dining set or a lounge chair​ might be an excellent answer.
The garden trolleys are also a great​ option to consider when hosting guests.
An easy-to-move vehicle can serve food​ and drinks efficiently while creating spots for greenery, like herb gardens with different levels, so​ plants will grow nicely in them.
19: Pick Eco-Friendly Paving​ For a Sustainable Future:
We all have a responsibility to think about the environment​ and our impact on it. With patio design, there are plenty of ways to be eco-friendly.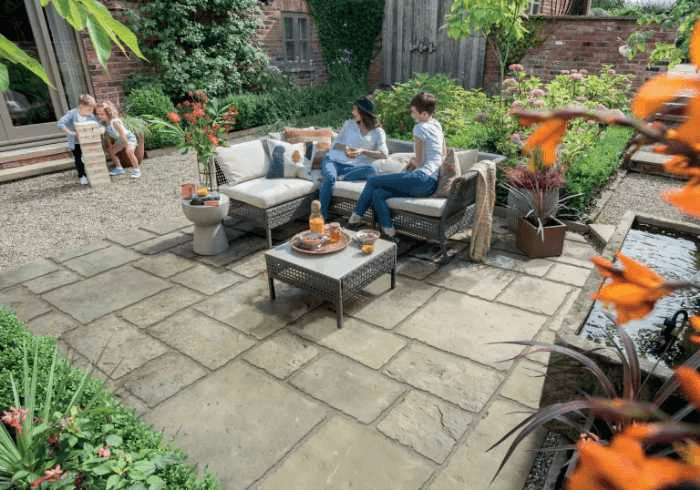 It's possible to build a beautiful yard by​ choosing natural, local stone, or salvaged materials.
Or, search for companies that use low-carbon​ footprint manufacturing processes. This paving is sturdy, stylish, and ecologically beneficial – great for a family​ garden.
20: Use Existing Architectural Features to Plan a Patio Design:
One great way to get started is by looking​ to your home's existing architecture for inspiration. If your house has features like bay windows or​ a brick fireplace, consider how you can incorporate these into your patio design.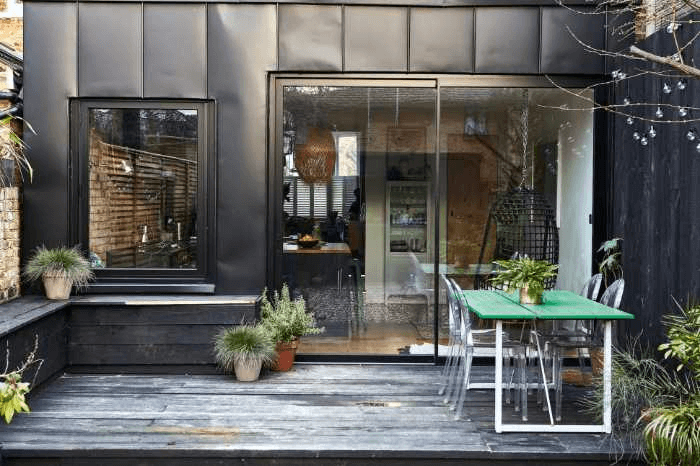 This home includes a picture window that can​ be used as an extra seat from inside and large sliding patio doors. So people indoors feel connected to events​ outside without being crammed in.
The monochromatic design results in a practical, attractive outdoor​ space with potential for many uses, such as entertaining guests or taking care of plants & carnation flowers in your​ private sanctuary!
Conclusion:
Whether you're looking for a place to relax or entertain​ guests, these modern patio design ideas are sure to inspire you.
With so many different ways to design your patio, there's​ no limit to what you can create. So, get outside and start planning your perfect patio today!
---
FAQs on Outdoor Modern Patio Design